2020: TIME TO LEAD CLIMATE
BY OLADOSU ADENIKE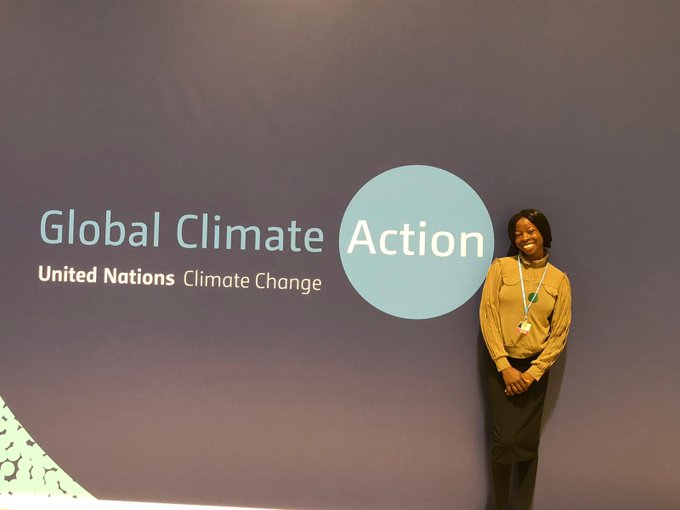 In time past during the civil war, many thought that it was the deadliest humanitarian crisis that hit mankind, yet it was resolved within a short time. Then I asked; how will it be if they have not created synergy and peace? How would the world have existed? Or will my generation come into this world? Now we are in a situation worse than the civil war as millions are dearly in need of humanitarian assistance. Thus within 25 years of negotiation on climate change, no conclusion on how we lead climate, Have we considered the words from Nelson Mandela that says, "Significant progress is always possible if we ourselves try to plan every detail of our lives and actions". We have been misusing planet resources more than it can give us. This is evident in the crises happening around the world.
Prior to this time, I thought taking climate action is an option for everyone but my thoughts failed when I came across the effect of climate change right from my college days I felt the need to get ambitions about climate action. The region is not only faced by climate anxiety but the reoccurring cases of farmer-herdsmen clashes becoming more pronounced as year passes by. I never thought I will spend longer years in my educational career than I did but it happened. Climate change can affect every social aspect of human existence as far it is in the system because climate change is also a social issue. Sustainability is everyone business either it affect you in a short run or long run.
We have let climate change lead us for a long time and have been in the battle field between unregulated capitalism since pre-industrial time. Currently, climate is leading us, economically, socially, security and human rights wise. It is now playing a central role in every issues arising in the society. This is evident in the crises happening all over the world as climate change is breaking records such as the atmospheric CO2 exceeding 415PPM of the earth occurring earlier than previous years, the burning of Amazon for weeks, the cyclones hitting Africa on the conservative occasion and many more. Also the monumental increase in temperature (45.90c), Australia wildfire and India heat-wave kill dozens of people as temperature hit 500C and this is happening all over the world. These I attribute as the features that IPCC foresee before giving the world a timeline of 12 years to lead climate for a sustainable world.
In all of these crises every continent in the world has its own peculiarity but Africa is an exception. It was further stated in IPCC report of 2007 and 2014 that Africa is the most vulnerable to Climate Change crises in the world.

This is because it is the driver of regional and national armed conflict as we aren't only suffering from the brunt of climate crises but we are quiet about it. 2020 marks the beginning of another decade and a critical year toward achieving the sustainable development goals. Various countries had start submitting their Nationally Determined Contributions (NDC) on how to cut down emissions and its subsequent review every 5 years. It will also determine our faith of meeting up with IPCC reports that says we have 12 years (now less than 11 years) to act on climate change for the sustainable planet we need and more critical issues that will decide human existence. It is clear that our climate action is a bit to win the race over climate change but the only hope is when we lead climate. Now the ball is in our court, we have all the possible chances in this decade (2020 to 2030) to safe the situation. It is time for everyone to get involved to lead climate by our daily actions. We all should be an advocate for a sustainable planet to safe further extinction of other living creatures because the extinction of animals will definitely lead to the extinction of human.
Oladosu Adenike
is a climate justice/peace activist and Freelance Journalist
E-mail:
[email protected]